Regular price
CHF 2,690.00
Regular price
Sale price
CHF 2,690.00
Unit price
per
Sale
Sold out
Beefer One Chef, the high-performance grill for PROs!
It allows you to obtain a caramelized crust with exceptional roast flavors, while making the inside of the meat tender and pleasant. A real pleasure for your taste buds.
The large with the authorization of large kitchens (DIN EN 203)
Here are the most important facts about the new Beefer ® XL CHEF :

- Fully welded interior with special gourmet construction for strict hygiene requirements, easy to clean, no right angles, tool-free removable rust rack, automatic grease drain through sloping floor
- Removable grease drawer
- Electric ignition
- DIN EN 203-1:2014-07 / Professional kitchen appliances using gaseous fuels
- Propane/butane (optional natural gas H)
- 2 burners, adjustable separately,
- Well over 800 degree temperature
- Stainless steel, three-walled case for better heat protection, logo screen printing process
- Front controls, side gas valves
- One-handed height adjustment, easy and almost stepless to adjust at any time
- Heavy cooking grate for large pieces of meat or pizza stone; to be used in the center with one or on the side with both handles.
E-BEEFER TECH SPECS:
- Beefer One Chef – Heat Over 800 Degrees
- D IN EN 203-1:2014-07 / Kitchen appliances for gaseous fuels
- P ropane/butane (optional natural gas H)
- Consumption: 454g/H
- Weight: 37kg
- Use: Indoor (Professional Kitchen) & Outdoor
- W 25.6" (650mm) | H 18.5" (470mm) | D 19.0" (485mm)
DELIVERY CONTENT
- Beefer® XL CHEF with hose (1.5 m) with hose burst protection
- Swiss gas pressure reducers
- 1 large grid
- 2 small cooking grids
- 2 handles
- 1 gourmet bowl 2/3 GN
- 1 battery

Q uality instead of quantity...
When it comes to food, conscious enjoyment and excellent quality are of great relevance for more and more people. This is especially true for meat and fish products. A steak from factory farming or an industrially processed commodity is no longer on many people's plates.
The Beefer® is adapted to the requirements and specially designed for the preparation of excellent meat and fish.
Shipping & Returns

L'intégralité de nos produits sont expédiées partout en Suisse.

Les produits FRAIS aussi disponibles en PICKUP directement à notre boutique d'Aubonne (1170). Ou en livraison express dans un rayon de 15km.

La livraison sera effectuée dans les 2 (cinq) jours ouvrables maximum suivant la commande si celle-ci doit être effectuée en Suisse.

Des délais plus longs peuvent s'appliquer en cas de rupture de stock ou des conditions indépendantes de notre volonté.

Si une livraison dans les délais n'est pas possible, le client sera informé de la nouvelle date de livraison ou de la disponibilité du produit dans les 2 (deux) jours ouvrables suite à la commande. La Société s'efforcera de lui proposer une alternative. Si la Société, ses fournisseurs ou des tiers mandatés sont dans l'impossibilité d'exécuter dans les délais prévus en raison d'un cas de force majeure, par exemple en cas de catastrophe naturelle, tremblement de terre, éruption volcanique, avalanche, intempérie, tempête, tempête, guerre, troubles politiques ou sociaux, guerre civile, révolution et insurrection, terrorisme, sabotage, grève ou accident nucléaire ou dommage aux réacteurs nucléaire et problème technique des caves de maturation, alors la Société est libérée de cette obligation d'exécuter sa prestation pendant ces cas de force majeure ainsi que pendant une durée appropriée suivant la fin de ces événements. Si le cas de force majeure a une durée supérieure à 45 (quarante cinq) jours, la Société est en droit de résilier le contrat. La Société devra alors rembourser intégralement les sommes déjà versées par le client.

Toutes autres réclamations, notamment celles relatives aux demandes de dommages et intérêts résultant d'un cas de force majeure sont exclues. Sauf convention contraire, le lieu d'exécution est situé au siège social de la Société. La prestation fournie par la Société est considérée comme réalisée lorsque les produits sont remis au transporteur choisi par la Société. Toute responsabilité pour dommages indirects ou immatériels est exclue. La responsabilité pour les dommages directs est limitée au prix de vente du produit/au prix du service. Cette limitation de responsabilité ne s'applique pas en cas de vol ou de négligence grave. Le client est tenu d'informer immédiatement la Société de tout dommage. Une éventuelle responsabilité des auxiliaires est limitée dans une certaine mesure, c'est-à-dire celle autorisée par la loi.
Share
View full details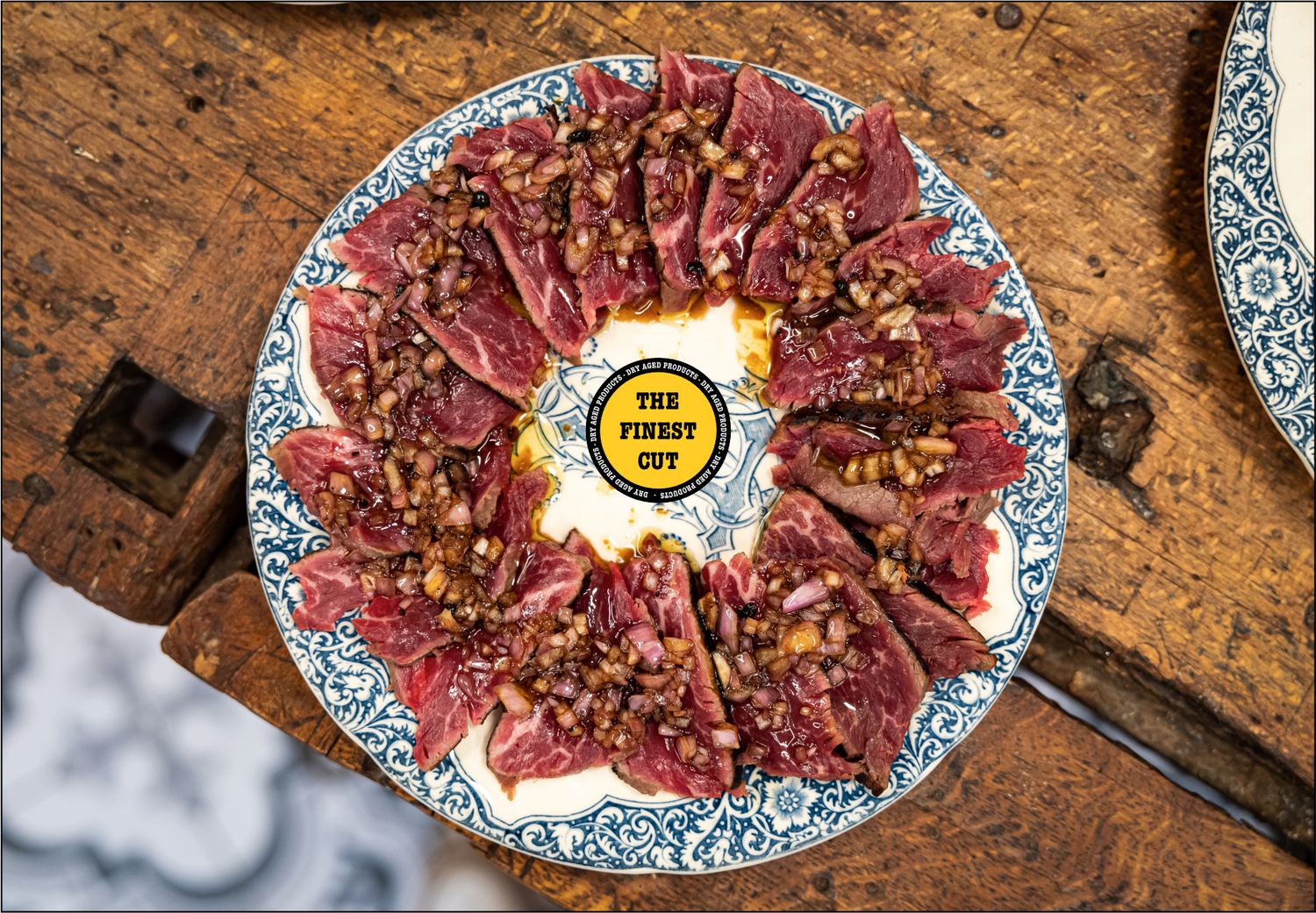 Dry-Age à domicile?
Envie d'un moment unique en famille ou entre amis? Nous vous proposons quelque chose de différent! Contactez-nous maintenant et obtenez l'offre adaptée pour vous.
Livraison Produits Frais

Les produits FRAIS sont uniquement disponibles en LIVRAISON.

Livraison Express -15km

Livraison gratuite pour toutes commandes avant 12h00 et dans un rayon de 15km de Aubonne.

Livraison dans la journée assuré.