Regular price
Sale price
CHF 849.00
Unit price
per
Sale
Sold out
E-Beefer, the high-performance grill for everyone - A steak always successful!
After a few years of intensive development, we succeeded in producing real 800 degrees purely electrically. The focus here is on "real 800 degrees": real 800 degrees Celsius in the cooking chamber – which means that you can now use the full potential of a Beefer in your private kitchen, on the terrace or anywhere where it is still dry and protected from the rain.
E-BEEFER TECH SPECS:
- E-Beefer Pro – Heat Over 800 Degrees
- Electrical household appliance according to DIN 60335
- Indoor use in the kitchen.
- Power: 2.6kW
- Voltage: 220-240V 50-60Hz
- B: 243mm // H: 410mm // T: 556mm
- 16 kg net without accessories
- Certification: GS Intertek
- T23 connector 230V/16A
- Use: Indoor (Private Kitchen) & Outdoor

DELIVERY CONTENT
- E-Beefer Pro Grill
- GN cooking grid
- grill handle
- 2 Gastronorm GN bowls
- User manual DE/EN
- Test protocol
- Swiss T23 connection cable
**TECHNICAL CONDITIONS FOR THE USE OF AN E-BEEFER
The T23 socket looks like the first view at the T13 socket. Only, the poles are square instead of round. A T23 SOCKET IS ABSOLUTELY NECESSARY (replacing only the socket is not valid, the cable must be adapted in conformity. You can contact us without further ado and we will help you.
Q uality instead of quantity...
When it comes to food, conscious enjoyment and excellent quality are of great relevance for more and more people. This is especially true for meat and fish products. A steak from factory farming or an industrially processed commodity is no longer on many people's plates.
The Beefer® is adapted to the requirements and specially designed for the preparation of excellent meat and fish.
Shipping & Returns

L'intégralité de nos produits sont expédiées partout en Suisse.

Les produits FRAIS aussi disponibles en PICKUP directement à notre boutique d'Aubonne (1170). Ou en livraison express dans un rayon de 15km.

La livraison sera effectuée dans les 2 (cinq) jours ouvrables maximum suivant la commande si celle-ci doit être effectuée en Suisse.

Des délais plus longs peuvent s'appliquer en cas de rupture de stock ou des conditions indépendantes de notre volonté.

Si une livraison dans les délais n'est pas possible, le client sera informé de la nouvelle date de livraison ou de la disponibilité du produit dans les 2 (deux) jours ouvrables suite à la commande. La Société s'efforcera de lui proposer une alternative. Si la Société, ses fournisseurs ou des tiers mandatés sont dans l'impossibilité d'exécuter dans les délais prévus en raison d'un cas de force majeure, par exemple en cas de catastrophe naturelle, tremblement de terre, éruption volcanique, avalanche, intempérie, tempête, tempête, guerre, troubles politiques ou sociaux, guerre civile, révolution et insurrection, terrorisme, sabotage, grève ou accident nucléaire ou dommage aux réacteurs nucléaire et problème technique des caves de maturation, alors la Société est libérée de cette obligation d'exécuter sa prestation pendant ces cas de force majeure ainsi que pendant une durée appropriée suivant la fin de ces événements. Si le cas de force majeure a une durée supérieure à 45 (quarante cinq) jours, la Société est en droit de résilier le contrat. La Société devra alors rembourser intégralement les sommes déjà versées par le client.

Toutes autres réclamations, notamment celles relatives aux demandes de dommages et intérêts résultant d'un cas de force majeure sont exclues. Sauf convention contraire, le lieu d'exécution est situé au siège social de la Société. La prestation fournie par la Société est considérée comme réalisée lorsque les produits sont remis au transporteur choisi par la Société. Toute responsabilité pour dommages indirects ou immatériels est exclue. La responsabilité pour les dommages directs est limitée au prix de vente du produit/au prix du service. Cette limitation de responsabilité ne s'applique pas en cas de vol ou de négligence grave. Le client est tenu d'informer immédiatement la Société de tout dommage. Une éventuelle responsabilité des auxiliaires est limitée dans une certaine mesure, c'est-à-dire celle autorisée par la loi.
Share
View full details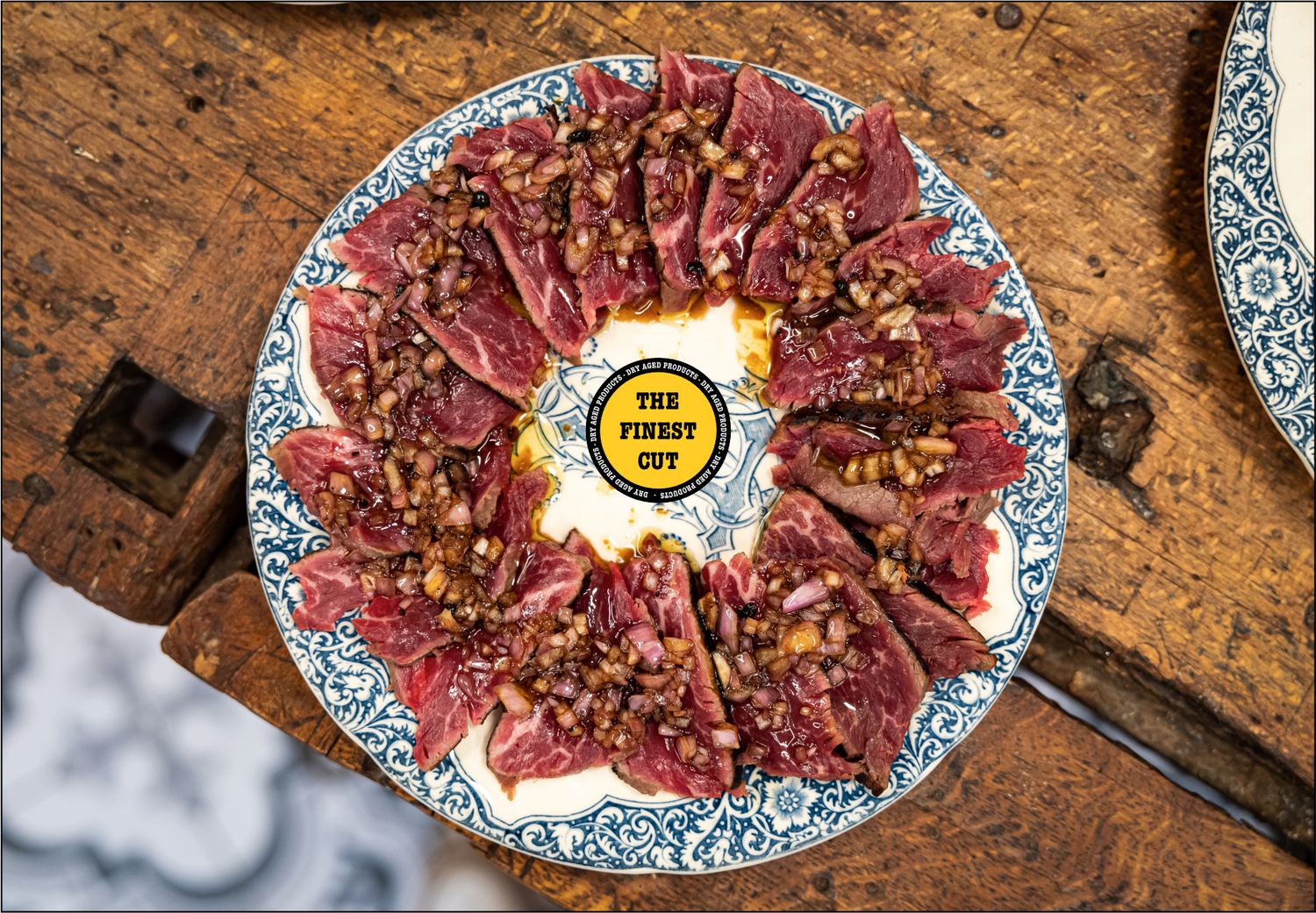 Dry-Age à domicile?
Envie d'un moment unique en famille ou entre amis? Nous vous proposons quelque chose de différent! Contactez-nous maintenant et obtenez l'offre adaptée pour vous.
Livraison Produits Frais

Les produits FRAIS sont uniquement disponibles en LIVRAISON.

Livraison Express -15km

Livraison gratuite pour toutes commandes avant 12h00 et dans un rayon de 15km de Aubonne.

Livraison dans la journée assuré.